Please welcome B.D. Hawkey to my blog today. We're talking
Hi and welcome to my blog! What's your name and where do you live now?
Hello Samantha, thank you for having me. I write under the pen name B.D.Hawkey and I live in Cornwall, England. I have lived in Cornwall all my life, in fact my ancestors, on my father's side, have lived in the county as far back as the 18
th
century. I love Cornwall and am very proud to be Cornish.
First off, how has your week been?
Unfortunately it has not been a great week. Our little dog's health deteriorated and he died this weekend. As a family, we were expecting it and thought we were prepared, but losing a beloved pet is never easy. We have always had pets, but each time we lose one we wonder whether to open our hearts and have another one because the chances are we will outlive them. It is always difficult to go through the pain of losing them, but then we remember how they make us laugh, give so much love and are great company and we realise the benefits far outweigh the pain. It is a bit like falling in love, although we may have had our heart broken in the past – we still keep hoping we will fall in love again.
I'm so sorry :( Losing animals is hard and I always wonder if it's worth the pain of losing them but I too can't resist them! So what is the name of your latest book, and if you had to summarise it what would you say?
The name of my book is Old Sins, Long Shadows. It is a Cornish Victorian romance and is a story of one woman's journey of self-discovery through adversity and how she finally finds the true meaning of love and family.
Where did you come up with the idea to write your book?
I don't remember
where
I was, but it was probably at an end of a book I was reading. I am an avid reader and always wanted to write an historical romance. Just like other readers, I sometimes find that I am a little disappointed in a book I have just read, so one day I decided to write one myself. It seemed common sense to me to write the book that
I
would like to read. What I have come to realise, since publishing, is that Old Sins, Long Shadows is considered by some reviewers as a romance that is different from today's historical romances. For example, one reviewer said "This story was very absorbing and at times reminded me of the historical romance novels at the peak of their popularity in the 1990's. Don't misunderstand; I'm not talking about "Bodice Rippers", but stories that were not just a lot of fluff. This story has substance." Luckily for me, it turns out that what I would like to read is also what some others enjoy reading too.
Are your books available as eBooks? Were you involved in that process at all? Do you read eBooks or is it paper all the way?
Old Sins, Long Shadows is available as a kindle download and in print format. I was heavily involved in both processes. I do not own a kindle and have always read paper books, but the world is changing and so must we. Even those who enjoy history and reading about the past must move with the times so I do plan to buy a device to read eBooks on in the near future.
Is there a part of the story you really liked but had to remove, and if so, could you tell us why?
When I first wrote Old Sins, Long Shadows the first chapter told the story of how Daniel came to be in Cornwall and about his background. I later removed it because Daniel is a mysterious character and I felt it would be better for the reader to learn about him at the same time as Janey learns about him. Daniel has a bad reputation and he is shunned by the villagers as it is rumoured that he has killed a man. I want the reader to go on a journey with the characters, understand why they do the things they do and why they react the way they do. This was better achieved by leaving Daniel's arrival to Cornwall out of the book. We discover more about him when he chooses to tell Janey about his background. When he confides in her, he is also sharing his story with the reader and we understand the true meaning of the title for the book.
Is there a message in your novel that you want readers to grasp?
There are several messages in the book, although it's not at all preachy in the way the messages come across. Let me think - be yourself; don't gossip about others; a family can come in many forms; don't judge others until you know them; abuse of power can take many forms; your actions/beliefs can have long reaching effects – even down through the generations. I think it could be a book that might spark a discussion at a book club.
Do you have plans for a new book?
I am writing another historical romance set in Cornwall at the moment. I am coming to the end and then the editing phase will start. I am still undecided about the title so I cannot reveal that at the moment, but it's about a woman who defends her home from an intruder. Unfortunately her actions result in the intruder losing his memory. Can she trust this man with no past who has a secret that haunts his dreams? Yet, this man is not the only one to have a secret as the heroine has a secret of her own. I hope to have it published towards the end of 2014.
How do you come up with characters names and place names in your books?
The book is based in Cornwall so I chose names that were used in Cornwall, or are known as Cornish names from that time period. The places are a mixture; some towns actually exist, whilst I have made up the names of some locations by using words from the Cornish language.
What has been the toughest criticism given to you as an author? What has been the best compliment?
An elderly relative was expecting a Barbara Cartland type novel so when she read a proof copy of it for the first time she was afraid it would not get published. She thought she would help me out by giving me a list of "how to write a romance" copied from a woman's magazine. I was hoping she would be really enthusiastic, so it was tough to get that sort of feedback. Luckily I did not change a thing and the best compliments I have had were from readers. "The most romantic book I have ever read" was one, and another wrote "Wow, what do I say about this book I have only moments ago finished…I loved every single word, every single paragraph, every single page!!!…" I think I will get those reviews framed! I am so happy and grateful when a reader takes the time to write a review or tell a friend how much they enjoyed it. When an author writes a book it is a very personal thing. Months, even years are spent shut away in a room with a laptop. I was the only one who knew the story and the characters and it took a lot of courage to have my work in the public domain where it is constantly judged. It is like being on a roller coaster of emotions, one minute you are on a high, the next you feel at your lowest ebb. However life is a journey and no one said it has to be a smooth ride. Janey and Daniel, the main characters in Old Sins, Long Shadows, understood that, and so do I.
Thank you, Samantha, for the interview. I've really enjoyed it.
Thanks so much for joining me! I wish you the very best with your writing career, B.D.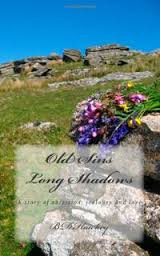 A Cornish Victorian romance set against the backdrop of the magnificent Bosvenna Estate, with eccentric rural characters and the sweeping hills of the dramatic Bodmin Moor. Janey Carhart's story is a tale of obsession, jealousy and love.
At the age of nine, Janey's younger sisters die from scarlet fever and her grief stricken mother blames Janey for their deaths. Financial difficulties and a desire to win back her mother's love, forces Janey to enter service where she quickly rises through the ranks. Upon her arrival to the elegant Cornish Country Estate, she successfully secures a position of a lady's maid for the wealthy and powerful Brockenshaw family. An exchange of letters between Lady Brockenshaw and her son ignites Janey's interest, but Janey's feelings for this mysterious and charming gentleman soon change her life forever. Yet, old sins cast long shadows and not only does Janey's mother's wrath affect Janey's life, there are others whose sins risk destroying her, the people she cares about and her capacity to love again.
Old Sins, Long Shadows is currently on offer! Purchase from
Amazon.com
and
Amazon.co.uk